Art's Way Announces Net Sales of $25 Million in 2021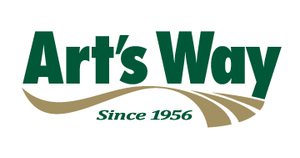 Consolidated net sales totaled $24,965,000 for fiscal 2021, representing an increase of 11.4% over consolidated net sales of $22,409,000 for fiscal 2020.
Net sales for the Agricultural Products sector for fiscal 2021 were $16,826,000 compared to $13,085,000 in fiscal 2020, an increase of $3,741,000 or 28.6%. The increase in sales is attributed to favorable agricultural market conditions as commodity prices hit 5-year highs. The company saw increased demand for grinder-mixers, manure spreaders and beet harvesting equipment in fiscal 2021 and has an even higher order backlog than in fiscal 2021 as it moves into fiscal year 2022.
Net sales for the Modular Buildings segment for fiscal 2021 amounted to $5,678,000 compared to $6,993,000 for fiscal 2020, a decrease of $1,315,000 or 18.8%. The decline in sales is attributable to a major construction project spanning the past three fiscal years that was completed in fiscal 2021.
Net sales for the Tools segment for fiscal 2021 were $2,461,000 compared to $2,331,000 for fiscal 2020, an increase of $130,000 or 5.6%. This segment has not fully recovered from the drop in oil prices at the onset of the pandemic in fiscal 2020 which flattened our sales.
Net revenue
Consolidated net income for fiscal 2021 was $213,000 compared to a net loss of ($2,103,000) for fiscal 2020, an improvement of $2,316,000.
Agricultural production. Despite continued pressure on margins from rising material and component costs in fiscal 2021, the agri-products business was able to combat margin erosion through multiple price increases. prices for customers. Much of the year-over-year improvement in net income was due to $996,000 of inventory obsolescence expenses the company had in fiscal 2020 related to increased reserves. on product lines the company strategically eliminated from its offering, including UHC reels, Miller Pro forage boxes, rakes and augers, which did not repeat in fiscal 2021. The company also saw an 18% increase in labor output for roughly the same amount of wages in fiscal 2021 due to increased demand and better shop floor planning . The company saw an increase in selling spend in the agricultural products segment through a rebranding initiative that took place in fiscal 2021 and the addition of a director of product development to help to orient the product ranges towards the needs of the customer. The rebranding initiative refreshed Art's Way's logo, website and literature to better suit hard-working customers. General and administrative expenses for the Agri-Commodity segment decreased in fiscal 2021 as it incurred one-time pandemic and double pay expenses in fiscal 2020 during the transition of two members of the senior management.
Modular Buildings. In the second quarter of fiscal 2021, the company completed a major construction contract that negatively affected profitability. The execution of new contracts with higher quality margins helped improve the company's bottom line in fiscal 2021. While commission expenses increased in fiscal 2021 due to the increase in sales and demand for farm buildings, the company experienced an overall decrease in operating expenses due to lower premium expenses, one-time pandemic-related expenses in fiscal 2020 and reduced corporate allocation expenses, which also led to an improvement in net income.
Tools. The Tools segment was the only segment that did not record profitability in fiscal 2021 with a net loss of approximately ($155,000). The order book has remained stable and strong since the pandemic. Like the majority of businesses in today's economic conditions, Art's Way struggles to maintain a skilled workforce, but has taken steps to increase automation to ease this burden. The company experienced a significant decline in operating expenses compared to fiscal 2020, including death benefit expenses, corporate allowance expenses and OEM implementation costs during the year. fiscal year 2021.
Art's Way President and CEO David King said, "Our dedicated team members continued to deliver outstanding performance in the fourth quarter of fiscal 2021, leading to positive results. We overcame ongoing supply chain challenges, skilled labor shortages and the impacts of COVID-19 to deliver to our customers. While supply chain constraints are expected to continue for the foreseeable future, our team continues to work closely with suppliers to mitigate disruptions.
"We have been very pleased to see continued operational efficiencies through our continued efforts to become leaner as a manufacturer. Investments in capital equipment and automation with a positive return on investment in all three business segments strengthen our position in the future.
"The new year is off to a strong start, as we are experiencing one of the largest order books in the company's history. High raw material prices and favorable farm incomes are creating strong demand for the agricultural products segment, while improving oil prices continue to add to the tools segment's backlog. Coupled with increased interest in modular buildings, we are optimistic for another very successful year.